Our ambassadors
Anaïs Boutié
Human Resources and Payroll Technician
Since 2020
''Never would I have imagined the unique experience of working for Guard-X. Here, we have the ability to merge versatility in task completion with proximity to staff members, all within a superb ambience. I began my journey at Guard-X as a payroll clerk, and I now have the pleasure of calling myself a Human Resources Technician.
I love speaking one-on-one with employees, helping them, and creating a new source of value for them and my enterprise as a whole. I almost consider myself a generator of happiness and good vibrations. Thanks to our very own training room, I can merge my work and personal activities all in one place. I also highly appreciate the many group activities that allow employees to come together, such as barbecues, weekends out and various other team-building activities.
However, that which I appreciate the most are my colleagues, without whom none of this would be possible.
If you are searching for an exciting professional adventure, I invite you to join our team at Guard-X!''
Valérie Bannon
Accounts Receivable Manager
Since 2015
''For over 80 years, Guard-X has stood out as the #1 fire protection service provider in all of Greater Montreal. In addition to the high quality experience that we deliver to our clients, Guard-X also deeply cares about its employees and their well-being.
I began my career at Guard-X as a part-time student worker, and here I am now, 6 years later working as a full time accounts receivable manager. Over the course of the past few years, I have personally witnessed Guard-X's evolution, and I can confirm that this enterprise has successfully adapted to modern times, and to the needs of clients and employees alike. This enterprise offers me tremendous flexibility on both professional and personal levels. My ideas are always heard and taken into consideration, which in turn allows me to work in total confidence and makes me feel a genuine sense of belonging within this enterprise. I am extremely grateful towards Guard-X for providing all the tools necessary in order for me to reach my full potential.''
Sylvie Champagne
Customer Service Department
Since 2008
''I have been a part of Guard-X's wonderful family for 13 years already. I love my work, the synergy with my colleagues, and above all the beautiful ambience that reigns in my workplace. We can always count on one another, and I appreciate the friendly, respectful and professional relationship that I have with the management team.''
Tommy Leduc Doan
Steward
Since 2018
''I am not here for money, but for the Guard-X family. As a janitor, and now as a steward, I love executing my tasks pertaining to the upkeep of common areas. My purpose at work comes from ensuring that everything is kept clean, dust-free and aesthetically pleasing, so that all our employees can benefit from a safe, wholesome work environment. ''
Natacha Huguenin-Lemieux
Client Account Manager
Since 2015
''Guard-X is not only a family-based enterprise that listens to its employees, but also an environment for personal growth and great accomplishments. We are a dynamic and devoted team. Our clients are our highest priority, and our mission is to remain the #1 fire protection service provider in Quebec. Together, we can combine forces and truly make a difference, because that's Guard-X too!''
Andréa Lamarche
Administrative Assistant
Since 2020
''I joined the Guard-X family almost a year ago, and I am proud of being an integral part of this ever-evolving team. Guard-X is synonymous with a family-based enterprise, where all employees are recognized and rewarded for their contributions. Guard-X represents a wholesome work environment, a healthy work-life balance and much, much more. Everybody plays an important role within this enterprise, which never misses an opportunity to remind us that we matter.''
François Guilbault
Team Leader
Since 1998
''I have been working at Guard-X for the past 23 years. When I started back in 1998, I never would have guessed that I had found my second family. Guard-X is always striving to improve its practices for the benefit of everyone involved. Working with this enterprise has allowed me to reach both my personal and professional goals, given our management team's emphasis on employee development. And that's Guard-X!'
Martin Bergeron
Fire Alarm Technician
Since 2002
''Choosing Guard-X means choosing to work with a well-established enterprise based on team spirit and teamwork. Having made that choice almost 20 years ago, I continue to cherish this career, which allows me to ensure the safety of individuals and their belongings. I love putting my knowledge to good use with the help of all the latest technology. Our ambience is friendly, and our challenges stimulating. My role has greatly evolved ever since the beginning of my career, which pushes me to continue developing and perfecting my skills.''
Isabelle Leclerc
Sprinkler system technician
''At Guard-X, we can feel the importance placed on human contact and the wellbeing of all employees. Every team member plays an important role within our company. Guard-X is an enterprise that continuously strives to surpass its own expectations, all while adhering to its core family values. Being a part of this family is absolutely an honour. »
And that's Guard-X!''
Our Belief in the Next Generation
''Your Career, our Support'' Scholarship Program.
This paid scholarship is awarded to students that wish to take on a vocational training program within the field of installation and maintenance of security systems.
Five (5) scholarships with a value of $600 (cost of signing up for a DEP, along with required tools and materials) are offered on an annual basis.
These scholarships are open to students enrolled in a vocational training program for installation and maintenance of security systems who will sign a work contract within our enterprise for a minimum of six (6) months, excluding the internship period.
Paid Internships
Students who are reaching graduation in one of our two trade disciplines (DEP in installation of security systems and/or DEP in fire protection mechanics) can submit their applications for a paid internship, within certain conditions.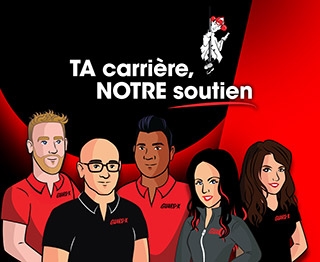 What Guard-X Offers
A TRUE development within an innovative and human enterprise

A direct communication with higher management

A flexible work schedules (certified by Concilivi – famille / travail)

An access to a private, uncrowded gym.

Fair and equitable wages
A collective insurance program (health, dental, compassion, vacation, life, etc.)

A generous holidays and days-off (sick days and personal days)

A 150 hours guaranteed towards CCQ certification.*

We supply your vehicle, smartphone, tablet and uniform.*

*Certain conditions apply
Our
partners
Centre de formation Compétence-de-la-Rive-Sud
Located on the South-Shore of Montreal, this vocational centre goes beyond the basic requirements for a professional studies diploma, and offers a teaching module focused on the development of technical competencies and professional attitudes.
Construc-Plus Vocational Centre
This training centre offers innovative devices and infrastructure, specifically designed to offer educational modules that represent a real-world work experience for aspiring installation technicians.
Léonard-De Vinci Vocational Centre
This vocational centre offers high quality training supported by the latest technologies. Active partnerships and collaborations with industry experts serve to maximize the potential of all its students.